The World of Festivals
One of the great things about becoming a part of the literary community is being exposed to the wonderful world of book festivals. These are places where authors can meet and interact with the public, and can meet and interact with other authors. Two of my favorite "festivals" are the South Carolina Book Festival and the Dahlonega Book Festival.
The South Carolina Book Festival is a huge event. Paula Watkins who is the director of this event spends hours on top of hours making sure that she has the right balance of author speakers, panels, events, etc. She sends her invitations out early to make sure she gets the best of the best, and that means in relationship to her overall view of the festival.
When I go to Columbia, South Carolina to participate in this festival I am sometimes anxious and apprehensive. I know that I am going to see my southern author friends but I am also aware that I am going to be exposed to some more famous national authors. It was at the South Carolina Book festival I first met John Hart, Barbara Taylor Bradford and Sandra Brown.
Paula makes sure there are social events where we can all hang out and talk. Authors love to write, and most of the ones I know love to talk. It was at one of these social events that I first spent time speaking with Kathryn Wall and her charming husband Norman. It was also at one of these events that I first carried on a conversation with Sandra Conroy, Patti Callahan Henry, Dottie Benton Frank, and Karen White.
The burden of the South Carolina Book Festival rests on the shoulders of Paula Watkins and her staff. She is a dedicated warrior in the battle to bring people into contact with authors and vice versa. Are we fortunate to have people like her on this earth? You bet!
In Dahlonega the "Paula" is Sharon Bacek. Sharon is a dynamo who works tirelessly to bring her festival into existence each year. Somehow she manages to overcome every problem she and her group encounter. And this year they did it in the span of a few months. Even with this late start it was a wonderful gathering that those who were there enjoyed immensely.
The key word for the Dahlonega Festival is "warm." The people, including Sharon, who meet and greet the authors and other participants, must be graduates of some professional charm school. When I attended this year the comments I heard over and over again were about how nice everyone was, and how gregarious they all appeared to be.
There is an intimacy to this festival that others don't have. When you sign on to be a participant in the festival you become part of the family. You feel that warmth and solidarity in the common goal of getting to know the other authors and getting to know the audience members. While there you usually stay at one of the bed and breakfasts in the area and you become part of the community. It is a great feeling.
So when you are thinking about writing that great American novel and beginning a career in the world of literature; the fraternity/sorority of festivals is an added benefit you might not have known exists. It does and it is a place that will welcome you with open arms. At least that is my experience.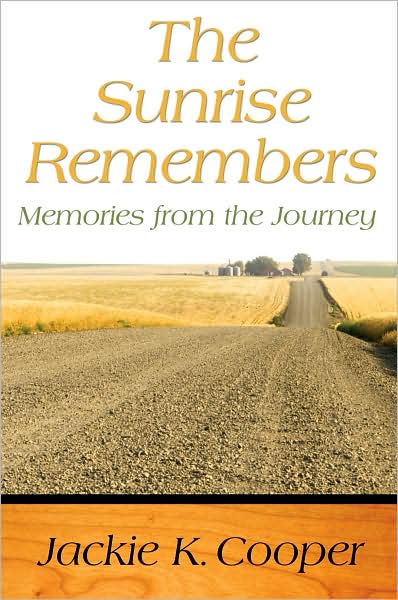 Jackie K. Cooper is the author of five Memoirs. The latest, BACK TO THE GARDEN, will be published by Mercer University Press in March 2011.